"There is no plan in place for families like ours."
It's not exactly a secret that the Church of Latter-Day Saints and gay rights haven't gone hand-in-hand historically. In fact, for many decades now the Church has vocally campaigned against marriage equality, making it one of the leaderships pre-eminent political concerns and codifying heteronormativity in Church doctrine. While some discriminatory policies have changed over time (for example, the Church no longer teaches that same-sex attraction can be 'cured' and no longer requires children of same-sex couples to denounce their parents, as it did until 2019) it would still be inaccurate to imagine that the Church is embracing the queer community to its fullest.
In fact, if you go to the official website for the LDS Church right now you can read a statement where they claim that same-sex attraction itself is not wrong, but it is a 'challenge' and that acting on those feelings is a sin. Gay members of the Church who choose to publicly kiss and embrace the person that they love may face punishments including probation, disfellowship, or (for those who refuse to repent) excommunication—a total severance from the bonds of their community and faith. Official Church statements refer to same-sex relationships as 'transgressions' 'temptations' 'wickedness' and 'sin'. The Church emphasizes the importance of marriage and family as absolutely essential for human happiness and salvation after this life, and yet it unequivocally prohibits marriage and family for gay people, condemning them to a life of celibacy and solitude. On today's episode we hear from two guests — Colette Dalton & Autumn McAlpin — who share their experiences with queer identity and the LDS Church.
Breaking Down Patriarchy and Homosexuality in the Mormon Church – with Colette Dalton & Autumn McAlpin
Colette Dalton, shares her story about compulsory heteronormativity, and the painful dissonance that many queer people endure due to their cultures and faiths.
Autumn McAlpin performs her personal poetry about the joys and hardships of
raising a queer son in the LDS Church.
Our Guests
Colette Dalton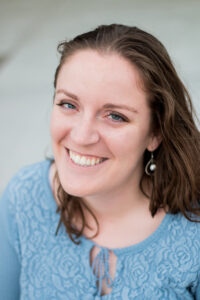 Colette Dalton (she/her) is a therapist in Utah and specializes in working with people around faith transitions and sexuality. She co-hosts a podcast called Called to Queer, which holds space for queer Mormon women, genderqueer, and intersex folks. In her free time, she enjoys practicing Pilates, reading, and listening to wayyyy too many podcasts.
Autumn McAlpin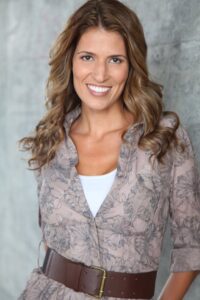 Autumn McAlpin (she/her) is a writer, filmmaker and dedicated voice of advocacy and equality for our LGTBQIA+ population—in particular in the LDS space. Autumn pens the weekly LGBTQIA+ family profile stories at liftandlove.org, and is also an active supporter and fundraiser for Encircle, which provides safe spaces, friendship circles, classes, and subsidized therapy to LGBTQIA+ youth.
I gently slid the ring onto my left ring finger and stared at the diamond now sparkling on my hand. I then looked up into her eyes, trying to see if she was thinking what I was thinking.
It all started out innocently enough. After I finished my grad school training to become a therapist, I interviewed for a job in a new city. They offered me the position, I accepted, and— just like that— I was moving to a city I'd never been to before. My new employer wanted me to start in only a few weeks, so I was scrambling to figure out where to live. The idea of getting my own apartment felt a bit too scary and new coming right out of grad school and constantly being surrounded by roommates. I also liked the idea of saving some money while living with someone else and not being responsible for the entire rent on my own. I ended up connecting with a woman through the church I attended. She had divorced about 6 months before and was looking to have a roommate as she was realizing that living alone wasn't the best thing for her extroverted nature. I moved in right as she was leaving town for a long weekend.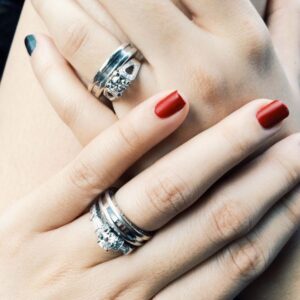 When she came back after her trip, it took some adjusting. She'd been living by herself for a few months, and I hadn't ever known anyone who was so open about their mental health, at least not anyone who wasn't a client. She'd try to get close to me by oversharing about her history of depression and issues with her previous marriage; I'd back away confused by what to do with the information. But after several months, we settled into a routine. I felt like I had lucked out with having her as a roommate and we were becoming close friends. We spent time in the evenings together laughing over the TV show Castle. We went to church activities together and she'd often lead the charge with anything extroverted as I sat back and watched and laughed. She showed me around the town, as she had lived there her whole life, and I loved trying all the new-to-me places and restaurants. I slowly opened up about my own issues with depression and I felt so safe and understood.
However, a bit after a year of living together, I could tell something was going on with her. She was acting strange and distant and seemed depressed, but she refused to tell me what was on her mind. One night, as we were talking in my room, I finally got it out of her.
"You know how I never say, 'I love you' back?" she asked.
"Yeah…" I replied.
"It's because it means something different to me than it does for you."
"Ok…?" I questioned. And then it hit me what she meant… she liked me. Like… like liked me. Like… had a crush on me. I had no idea she was interested in women, as she had only ever talked about men. It took a couple of seconds for me to process, but then I responded.
"Oh. OH! Of course that's okay! That means a lot that you would think of me that way. I don't see you that way, but this doesn't change our friendship at all," I reassured her. "You mean a lot to me and I care about you." But she ran out of the room in shame.
As a few weeks passed, I realized that her feelings towards me were more reciprocated that she thought. I remember driving home with her one day and Mary Lambert's "She Keeps Me Warm" came on the radio. I quickly changed the channel, my face turning red. She gave me a weird look, but let it go.
It wasn't until we were cuddling one night, and I held on to her a bit too long as she was trying to leave, that it clicked for her.
"You feel it too, don't you?" she asked, whispering in my ear.
I tried to deny it. But I did feel it. Which was confusing, because I was straight!
The confusion continued as we kept living together, acting like a couple in private, but being very careful in public. I could lose my job for being in a relationship with a woman, and there would be consequences for both of us with our church if people found out we were dating.
But dating is exactly what we were doing. And it felt so right. I loved cuddling with her at the end of a long day as we watched a TV show together. It was so fun doing random adventures around the city and going on vacation together to Lake Tahoe over the Fourth of July, where she held me as we watched fireworks over the lake, and were able to act more of a couple in public without fear of reprisal. Even going grocery shopping and doing household chores together made me happy.
And after a few months of this, there we were… with the ring. No, this wasn't a proposal. We had been talking about her previous marriage and I had asked to see her wedding ring. We had been dating for several months at this point and I was so confused. Why did I see her as more than a friend and roommate? Why was I even thinking about marrying her, even though I was straight? Why was I thinking about marriage, when it wasn't legal throughout the U.S. to have two women marry each other? And why did trying on her old wedding ring make me wish she was actually proposing to me instead of showing me a relic of a past life?
Soon after that, we took a trip to Seattle. By this point, we had decided to stop dating and try to live our religion more faithfully. She was moving out of the state to supposedly live closer to family, but it was really to get away from me. We kept trying to not date, but it was impossible for us to stop when we were living together. Because of this, we had invited a friend along to "chaperone" us (though the friend didn't know she was doing that, as we had been so private and quiet about our relationship). We figured we wouldn't be able to act like a couple with this friend around.
The confusion continued as we kept living together, acting like a couple in private, but being very careful in public. I could lose my job for being in a relationship with a woman, and there would be consequences for both of us with our church if people found out we were dating.
On the first full day of our trip, we ran through the rain to the Smith Tower, a building which is the oldest skyscraper in the city. We took the elevator to the top and took turns sitting in the Wishing Chair. The legend around the Wishing Chair says that any single woman who truly desires to get married and sits in the chair will be married within the year. As I sat in the chair, my mind felt very confused. I did want to get married, but I wanted to marry HER. Did that wish count? Did the wishing chair care about the gender of the partner? Would it only work if I desired to marry a man… any man?
I didn't get married within the next year, and it took several more years of pain and confusion to realize that I wasn't actually straight. Some people smarter than me might have figured it out sooner. But at the same time, the patriarchy dramatically interfered with my ability to realize that I was queer.
Being in a patriarchal system, compulsory heteronormativity was enforced. Liking anyone who wasn't a man simply wasn't an option. I was on a path with the destination of marriage to a man. No need to look at any other options because there weren't any. And going along with that, my sexuality didn't belong to me, ever. It belonged to God, and then once I got married, it belonged to my husband. Even thinking about being a sexual being wasn't allowed. No watching pornography. No masturbation. No sexual fantasies. And even dating was off-limits until I was 16. Plus, I was counseled to not French kiss anyone until it was my husband. So how was I supposed to know that I was attracted to women, if I was supposed to not be sexually attracted to anyone?
Now seeing more of how patriarchy is embedded everywhere in our culture, I can't help but wonder if I would have discovered my sexuality earlier if it hadn't been for patriarchy, if it hadn't been for the heteronormativity that is everywhere in our culture. Would I have been allowed to have crushes on girls when I was younger? Would I have tried so hard to keep going on dates with men, even when I wasn't feeling it? Would I have cared so much about what I looked like and kept wearing make-up, even though it was a pain and took up time I'd rather be sleeping? Would I have had the near-constant thoughts of wishing I was dead, because being dead and supposedly straight would have been better than being alive and gay?
I mourn for the me that could have been if it would've been possible to live in a world devoid of patriarchy. I imagine being an 8-year-old that loved her body instead of thinking it wasn't good enough because of having to be aware of the male gaze. I imagine being a 12-year-old that could've had a crush on her female classmate or a 17-year-old that could've had her first kiss with a woman. I could've been a 24-year-old that didn't feel any angst about wanting a woman to ask her to marry her or a 25-year-old that wouldn't have been so confused sitting in the Wishing Chair. I could've been a 28-year-old that wasn't devastated when she realized she was actually gay and who would've just trusted herself instead of listening to what the world around her said about her sexuality and future. And I mourn especially for the possibility of being a 30-year-old that would've loved life instead of spending so much of her energy trying to keep herself alive in a very broken mind and system.
It's a weird and profound, yet ambiguous, loss.
I don't know who I would've and could've been without the patriarchy. It's hard to imagine having being queer be so normalized that I never would have had to come out because it wouldn't have been an issue. I'm so amazed by seeing teens and kids coming out so young and not being afraid. Of seeing them being celebrated by their families instead of hidden. But the reality is that that wasn't my reality, but I want it to be the reality for others. And that's one of the many reasons why I want to continue to help in the cause of breaking down patriarchy.
-More than 700,000 LGBTQ people have been subjected to conversion therapy-
-More than 1 in 3 LGBTQ Americans faced discrimination of some kind in the past year-
-More than half of LGBTQ Americans report hiding a personal relationship to avoid discrimination-
-LGBTQ people face higher rates of poverty, stigma, and marginalization-
-LGBTQ individuals are more than twice as likely as heterosexual men and women to have a mental health disorder in their lifetime-
-LGBTQ individuals are 2.5x more likely to experience depression, anxiety, and substance misuse compared with heterosexual individuals-
-LGB youth seriously contemplate suicide at almost 3x the rate of heterosexual youth-
-LGB youth are almost 5x as likely to have attempted suicide compared to heterosexual youth-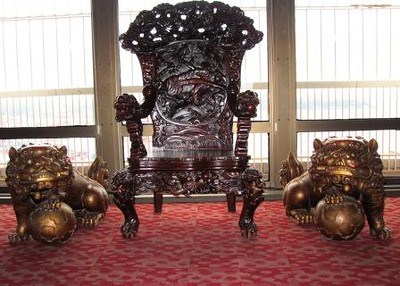 PART TWO.


Autumn McAlpin
In Search of Masculine, Manly Men

"From our pre-mortal life, we were directed into a physical body.
There is no mismatching of bodies and spirits.
Boys are to become men – masculine, manly men –
ultimately to become husbands and fathers….
There is a falsehood that some are born
with an attraction to their own kind,
with nothing they can do about it.
They are just 'that way' and can only yield to those desires.
That is a malicious and destructive lie.
No one is locked into that kind of life."
– Elder Boyd K. Packer, 1976

Things They Said

"Did you always know?"
"See your little guy out there, jumping on the trampoline in a princess dress?
All I can say is, don't ask, don't tell."
"…Arguably the brightest student I've ever had. But at recess… he struggles to connect…"
"Taekwondo!? Sign him up for a real sport!"
"He really just prefers Legos."
"Tell him to ask Mia or Zoe!? They need dates!"
"Have you always known?"
"Not everyone's into team sports."
"Sometimes they're just late bloomers."
"My kid hated dances, too."
"Jenna or Abby?"
"Promise me when I go off to college, you'll figure him out."
"There's got to be someone he'd want to go out with!"
"You know why he's depressed, right?
He's gay. I did my dissertation on homosexuality. I know these things."
"What kind of high school junior wants to spend his spring break with his mom
painting tulips in the Netherlands?"
"Promise me when I'm on my mission, you'll figure him out."
"I've known it since he was three. I never said anything because sometimes… I'm wrong."
"All I can say is God makes them the way they come, and God don't make no mistakes."
"I'd strongly encourage him to wait until he graduates to fully come out."
"High schoolers can be brutal."
"You knew, right?"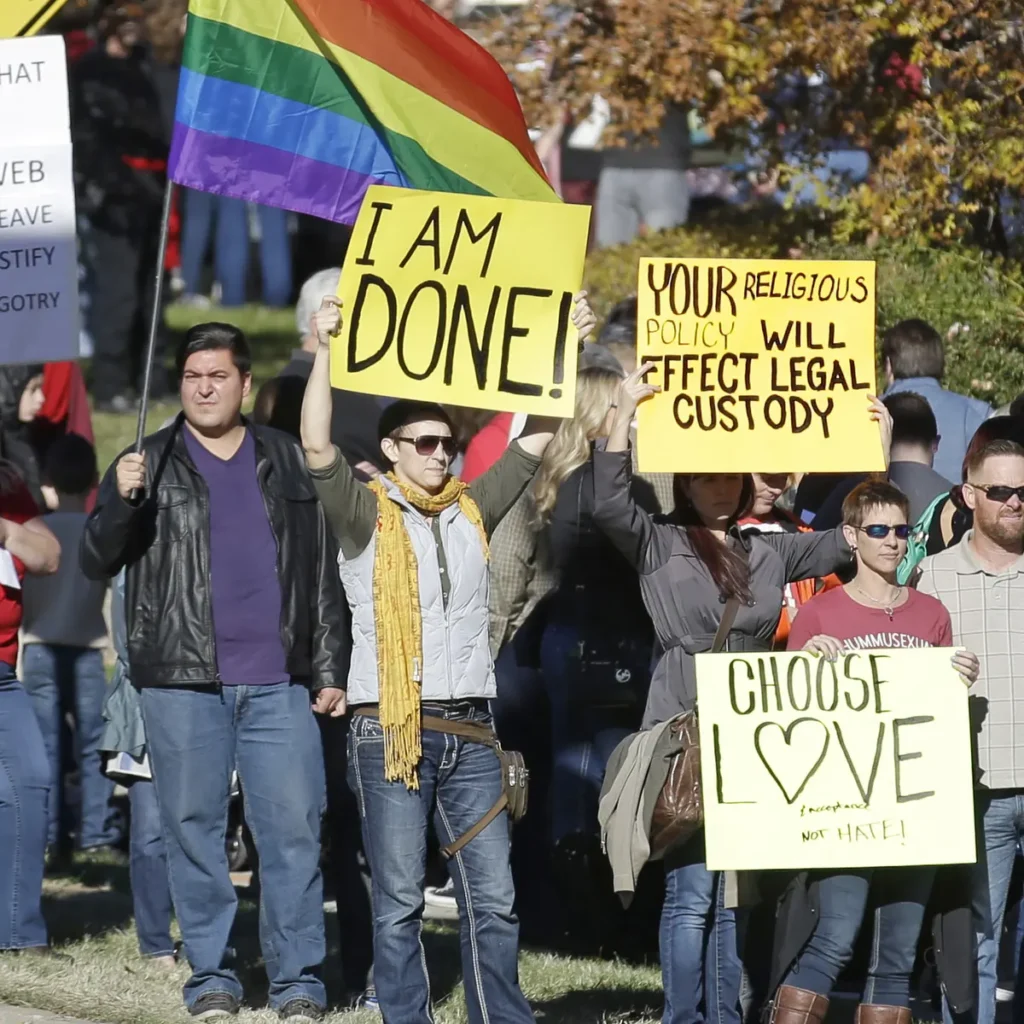 Things I Said
A perfect baby.
Perfect child.
Never screamed.
Never cried.
Never did a thing wrong in his life.
Mama's boy.
Teacher's pet.
Schoolwide standout.
Future prophet?
Things He Did
How he tried.
How he tried.
How he tried so hard to hide.
He sat up front
All smiles and nods
And beat himself
With unseen rods.
Not for what
He's said or done.
But what he feared
He might become
If he stopped
The pleading smiles
The nodding, blending, self-denial
The retching, sobbing floods, the writhing
All from a youth of
Constant hiding.
Masculine, Manly Men
We're walking along Fisherman's Wharf,
It's summer, irony's coldest season.
My husband and younger son lead our traipse through the crowds
The two girls in the middle.
As always, amid the hills and gusts
I fall behind.
Neuropathy has a way of doing that.
Hills and gusts have a way of making it worse.
My drop foot intensifies; my left side drags —
My body entering shut down mode.
When like an anchor, I feel the warm strength of my oldest son. He wraps his jacket around my
shoulders. His gentle cradle and outstretched arm support, push, almost pull me up the hill. He
says nothing. He is 14.
The manly men are up ahead, lost in the crowd:
My husband who brags he dated probably 100 girls before we married.
My charming son who convinced Heidi Klum to deliver his first kiss (on his cheek).
But it is this son who notices his mother struggling to walk.
This one, who was born that way.
He Read That
"The person who teaches or condones the crimes for which Sodom and Gomorrah were destroyed – we have coined a softer name for them than came from old; we now speak of homosexuality." – J. Reuben Clark, Jr.
"They [homosexuals] should be excommunicated without any doubt, the homosexual has no right to membership in the Church… I said I think they should be dealt with immediately if they are guilty." – President David O. McKay
"Let this individual repent of his perversion, force himself to return to normal pursuits and interest and actions and friendships with the opposite sex, and this normal pattern can become natural again." – President Spencer W. Kimball
"…nor do we intend to admit to this campus any homosexuals… [I]f any of you have this tendency, … may I suggest you leave the University immediately …. We do not want others on this campus to be contaminated by your presence." – Ernest Wilkinson, President of BYU, 1965
He read all that. Years before you did. Don't tell him how to feel.
But Jesus
Said love everyone,
Treat them kindly, too.
When your heart is filled with love. Others will love you.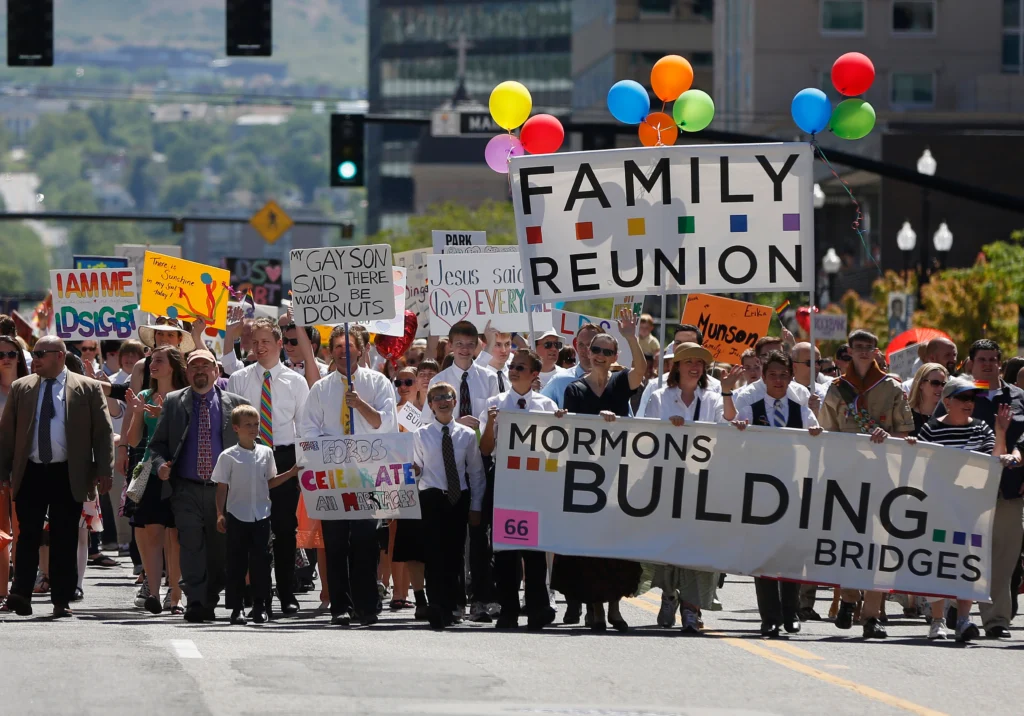 Let's Break It Down
So he didn't choose this.
True.
He can't change it.
We believe that.
Can't "fix it."
Not really.
Can't make it go away.
I'd imagine not.
You don't encourage a mixed orientation marriage.
We acknowledge that might not be best.
And eternal marriage — the "new and everlasting covenant."
Yes!
The dream, desire, mandate, epitomal goal?
Absolutely!
What is preached from every pulpit, in every class?
That is the Plan…
And faith, hope, charity?
Cornerstones. Pillars. Foundations.
Where is his?
Is your marriage and family just one tiny part of you?
Or is it everything that you're told to pursue
From the moment you first meet that pew?
What do you do when you are the fine print, the exception, the asterisk? Where do you sit?
Not Sure
Anymore
About Jesus
He says
At Christmas
And it breaks your heart.
Did you push too hard
Or not enough?
(The compass is nice, but sometimes you crave a manual.)
He joined family church
But stopped once it streamed online
From pulpits and people
Who before called him "unnatural"
(Or worse.)
You only begged once
For him to join an assembly
You were the speaker
The topic was service
It seemed safe enough
And was, until the keynote from Salt Lake took to the pulpit
And reminded him the church – The Church – was the one way, the only way. And now
At Christmas
He doesn't want to listen to Silent Night.
But he still closes his eyes
And bows his head
When you pray.
But Has He Read This?
"Marriage should not be viewed as a way to solve homosexual problems. The lives of others should not be damaged by entering a marriage where such concerns exist. Encouraging members to cultivate heterosexual feelings as a way to resolve homosexual problems generally leads them to frustration and discouragement." – President Gordon B. Hinckley, 1992
Wait! So Does That Mean…
(No.) The doctrine doesn't change.*
What About When…
"Black skin is a sign of divine disfavor or curse…"
"Black skin reflects unrighteous actions in pre-mortal life…" "Mixed-race marriages are a sin…" -Brigham Young, Bruce R. McConkie, Mark E. Peterson
Became This…
"Church leaders now unequivocally condemn all racism, past and present, in any form."
-The LDS Church Website, present day
One Explanation
"I don't know that it's possible to distinguish between policy and doctrine in a church that believes in continuing revelation and sustains its leader as a prophet. … I'm not sure I could justify the difference in doctrine and policy in the fact that before 1978 a person could not hold the priesthood and after 1978 they could hold the priesthood…" – President Dallin H. Oaks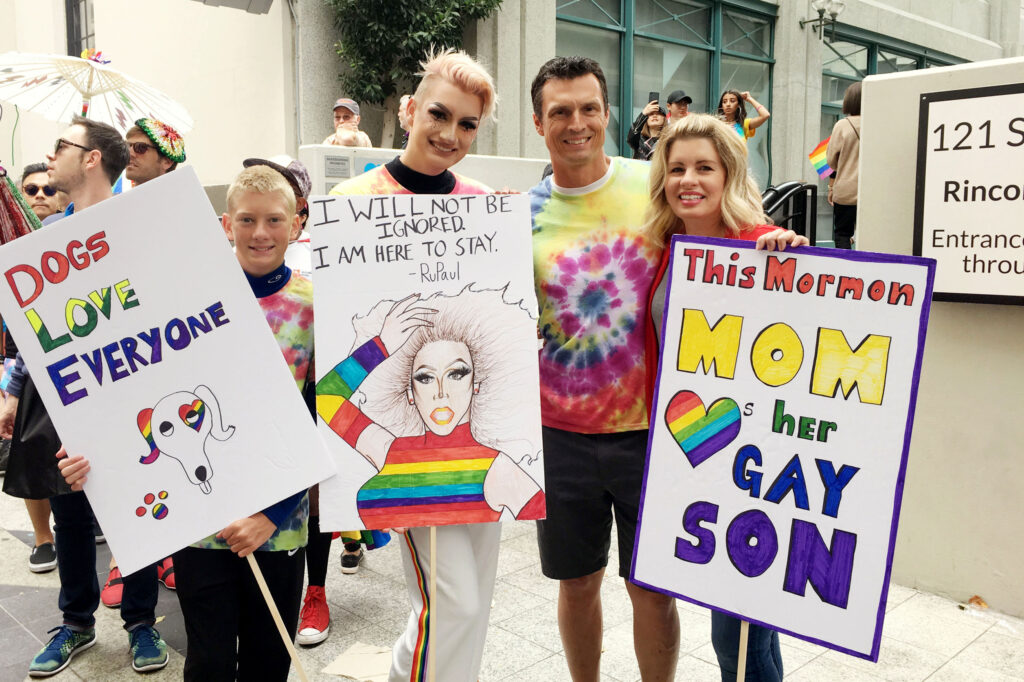 Excerpts from A Conversation with a General Authority…
It's kind of like coffee. 99% of the world's favorite drink: a staple, a ritual.
How's that?
I didn't grow up drinking it; never even wanted to.
Obedience.
Perhaps. Also, I never liked the taste. But that's the thing: 99% of the world did
grow up drinking it, loving it, can't even fathom giving it up.
Sure.
And thus 99% of the world won't listen to why they might or should.
It's about obedience.
For them? Or for us?
Precept by precept.
But faith precedes obedience.
True.
When the missionaries knock, they won't even open the door because of the coffee.
When they hear the words "LDS, Mormon," they think coffee. Sacrifice.
Before they've ever heard of the law of sacrifice.
It's a code of health.
But does it keep you from heaven?
Of course not!
But it keeps them from opening the door. From Christ's church, intended for all. A beverage. Not too different from your Diet Coke or Red Bull.
Perhaps…
So back to The Plan of Happiness. Eternal marriage. Eternal families.
Much more important.
You love yours?
They're my everything.
As they should be.
And marriage: ordained to be between one man, one woman.
Doctrine. Unchanging. God's Plan.
For all but 3-13% of God's children, pending the survey.
For all. Your son's identity is not gay, his identity is a child of God. Some may feel…
It's not for them? Because currently, it's not. This 3-13% —
It's a higher law.
And what about the 3-13% brought up in this quest for obedience? Implanted since Sunbeams with a sunny plan that crumbles when they realize their biology doesn't fit the plan. That the end goal is unachievable in this life, and there's no surety about what comes next.
It makes sense the truest of believers might see suicide as the safest way out.
There are things we do not yet fully understand.
Are we asking?
I do not tell God what to do.
But are we asking?
The doctrine doesn't change.
Hasn't it, though? What about polygamy?
How does their marriage attack yours or mine?
It doesn't per se…
Then why not err on the side of caution, in their favor? Why not let people keep their coffee?
If God's plan is for everyone?
Active
Or activist? What are you now?
And where does your husband lean?
He circles your son, a single-minded fortress
While you try to change the world
For all the upcoming Gavins.
You write weekly family profiles online:
How to Lift, How to Love
@liftandloveorg
Meeting hundreds of families just like yours.
Their pearls resonate:
"You have to affirm yourself and believe in your own goodness."
"It's more important to avoid breaking a person than to avoid breaking a rule."
"I plead that you be more understanding to people who experience and struggle with things that you may not experience and understand for yourself."
"There are too many people – and too great of people – to have this in their lives for no reason."
"I want to stick around and be here – the woman with the rainbow pin. The one who raises her hand and reminds people that things have changed; leaders don't say those things anymore."
"It just makes you mad when you're in a church that works so well for you, but there's no place for your child. When we don't make space for our LGBTQ kids, we're also not making space for the people who love them."
"To ask another human being to live their whole life
without a companion when you have one? That's just cruel."
"I don't believe in a Heavenly Father who would make you the way
you are, then punish you for being that way."
"We were given this family on earth for a reason and if we turn our backs on our children because they are doing something we don't like, then we just failed our test here on earth."
"I separate the church from the gospel. My gay children are light seekers and bearers and do it a lot better than a lot of Christians. This is a blessing, not a trial. The trial is seeing them in pain.
"We are the opposite of lazy learners or lax disciples. True eternal success won't be because of a temple recommend; it will be because we loved unconditionally."
"We as a church have failed our LGBTQ members. We have a lot of work to do. We need to listen to and understand them, and we need to let them know they belong."
"We don't belong here. We don't belong anywhere. And so we mourn. Alone.
There is no plan in place for families like ours.
Let's push for further light and knowledge regarding our LGBTQ family members."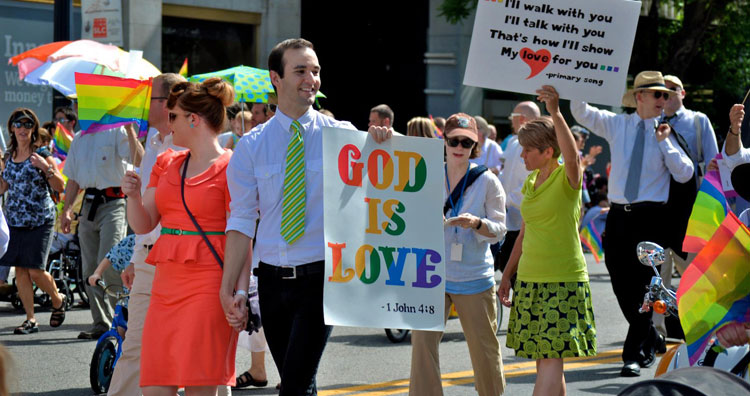 Whiplash
We need to listen to and understand what our LGBT brothers and sisters are feeling and experiencing. Certainly, we must do better than we have done in the past so that all members feel they have a spiritual home where their brothers and sisters love them and where they have a place to worship and serve the Lord."
-Elder Russell M. Ballard, 2017
"Remember, it was the questions young Joseph asked that opened the door for the restoration of all things. We can block the growth and knowledge our Heavenly Father intends for us. How often has the Holy Spirit tried to tell us something we needed to know but couldn't get past the massive iron gate of what we thought we already knew?"
-Elder Dieter F. Uchtdorf, 2017
Soon after the lifting of the priesthood and temple ban for Black people: "Forget everything that I have said, or what President Brigham Young or whomsoever has said in days past that is contrary to the present revelation. We spoke with a limited understanding and without the light and knowledge that now has come into the world."
-Elder Bruce R. McConkie, 1978
"We sometimes don't believe truth or reject it—because it would require us to change or admit that we were wrong. Often, truth is rejected because it doesn't appear to be consistent with previous experiences…Yes, we do have the fulness of the everlasting gospel, but that does not mean that we know everything. In fact, one principle of the restored gospel is our belief that God 'will yet reveal many great and important things'."
-Elder Dieter F. Uchtdorf, 2013
"God makes them the way they come, and God don't make no mistakes."
-My father-in-law, Len McAlpin, 2020
Muskets
His first day at Berkeley is an adventure.
He's awoken by a fire alarm; someone's burned toast. All are evacuated
and will stand outside for two hours in the cold.
Half will remain in pajamas for their first day of class.
The homeless encampment across the street at People's Park
has also chosen this day to stage a protest against the land developer
seeking to dismantle their tent city.
They block all entrances to campus, including professors from parking.
Meanwhile on campus, the vegans protest the distribution of animal products
by strewing decapitated stuffed animals around the lawn
and pouring fake blood in the fountains.
Your son calls you to report on his first day.
Slightly humored by it all.
One week later, you drive your returned missionary daughter to BYU
Where the men's hair is as well-manicured as the lawns, and no beards allowed
Or they are barred entry.
An apostle known for speaking hope and love has taken his place at a podium and accuses a former valedictorian of commandeering that same podium. But the latter is deemed a nuisance because he dared to share his orientation
where so many scholars before him (including that apostle) have shared charming anecdotes about their kids, and gratitude for their spouses.
Their orientation represents the standard, so it is okay.
Hardly "divisive," because they are the norm.
The apostle commandeers his faithful warriors to take up figurative musket fire against those (like you) who dare to advocate for those (like your son), whose very presence makes the majority feel under attack.
Each school's first week will make headline news.
Each university shakes their head at the other.
You have delivered these two children into this world, to these schools:
One where "the ungodly" protest for humanity and animals
One where "the godly" protest against humans like your son
You exhale, knowing at which school your son is safe. He made the right choice.
You question it all, everything.
A Mother's Prayer
Heavenly Father are you really there?
And do you hear and answer every mothers' prayer?
I silently scream, my knuckles now bloody
and I roll over and clasp my compass
and rejoice that he is still with us.
Mine to love. So easy to love.
They embody love.
And their mothers knew it.
They're here to teach us how to love,
as Christ did, the outcast, the leper, the pharisee, the one.
Father forgive for we know not what we've done.
May they forgive us.
I'm so amazed by seeing teens and kids coming out so young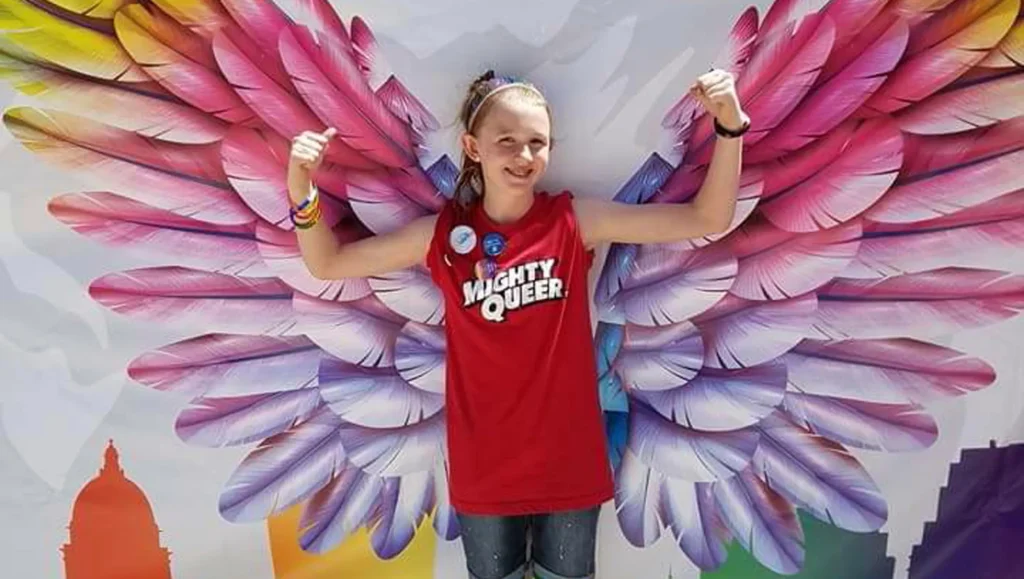 and not being afraid.
Listen to the Episode
&
Share your Comments with us below!